Cabin Grade Flooring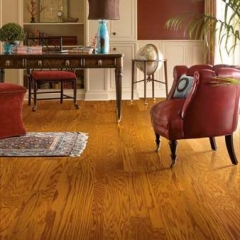 Characterized primarily by knots, color variation, and mineral streaks, cabin grade hardwood flooring is offered by several manufacturers. Finding it, however, can be a challenge, and selections are seldom the same. Distributors like Hurst Hardwoods are given monthly lists from mills with all value flooring, and the types sold, be it prefinished or unfinished wood, change.
Grading, on the other hand, might confuse some, and you may be asking yourself, "Why would I want to install cabin grade flooring?" First, grading of unfinished hardwood floors, based on National Wood Flooring Association (NWFA) standards, pertains to appearance – not quality. Wood cut from the center of the tree, without knots and color variation, is labeled with a "Common" or "Select" grade. Lower grades, such as #1 and #2 Common, begin to display character marks: a bit of color variation or smaller knots. Cut from the outside of a tree, cabin grade flooring, which does not meet a manufacturer's standards, has the greatest amount of character marks.
Color variations, in particular, set cabin grade hardwood apart from higher grades. Black and greens may be present. Knots and streaks, similarly, add additional variation to the appearance. Cabin grade flooring may also have splits, checks, or windshake. But consistency is not for everyone. Cabin grade flooring adds character to a space and can make a room have a rustic feel.
Poor milling, however, may result in a "cabin grade" label for hardwood. Planks may have voids, tree bark edges, missing tongues, or uneven corners. All of these features cause problems in installation. If you are considering cabin grade flooring for your space, order extra – 10 percent or more – to cover any unusable wood.
Cabin grade flooring may also be smaller than typical planks. Wood flooring tends to be 12 to 84 inches in length; cabin grade products, however, may be eight to 12 inches. These "shorts" can still be installed, however. Shorts do not compose all of cabin grade flooring, and if you want larger planks, you will likely find them.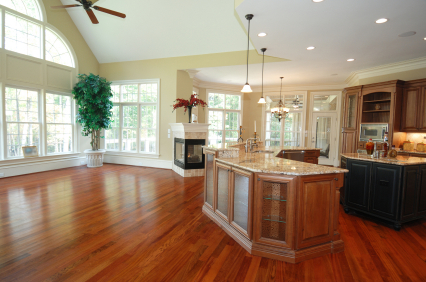 Pros and Cons
Cabin grade flooring has certain advantages and disadvantages. First, the cost is ideal for those wanting hardwood flooring but cannot afford higher grades. At $1.50 to $2.75 per square foot, cabin flooring can be 50 percent less than the manufacturer's standard prices. Value flooring, however, does not come with a warranty.
Grading can be a confusing matter for those purchasing hardwoods, and prefinished varieties throw in an additional curve. Standard National Wood Flooring Association (NWFA) grades are not used for prefinished flooring, although products labeled "cabin" do not meet a manufacturer's standards. Be careful of "character" prefinished flooring, however. Intentionally distressed, this style of prefinished flooring is not the equivalent of cabin grade hardwood.