Discount Laminate Flooring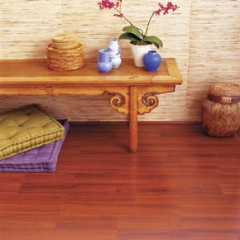 If you are searching for the look of hardwood, going with laminate flooring has advantages and disadvantages. Several well-known hardwood manufacturers, such as Armstrong and Bruce, include laminate lines, and prices correlate with how authentic-looking and sounding certain products are. Laminate flooring, in general, has come a long way over the past 20 years, and rather than having a generic wood look, the product can look like a specific finished species, have a hand-scraped texture, and even sound like natural hardwood.
All laminate products, regardless of appearance, have a basic composition: moisture-resistant particleboard, a photographic image on top, and a coating of cellulose-resin or melamine. Bruce Hardwood laminate products, for instance, consist of a wear layer, which is stain and fade resistant; a design layer, or a photographic image; an inner core layer; and a backing layer, which acts as a moisture barrier to prevent the planks from warping. Because of these features, laminate flooring is durable, scratch-resistant, fade-resistant, and easy to maintain and is usually floated.
On the other hand, these features have a few downfalls. The photographic image, while appearing to look like wood, becomes repetitive over the surface of a floor; the uniqueness of hardwood's grain and character marks is lost. Similarly, laminate products cannot be refinished; if you want the floor to have a new look, the planks need to be removed and replaced. Additionally, laminate flooring is typically characterized by a hollow sound once installed, but underlayment adds more depth.
Although a specific grading system is not used for laminate flooring, manufacturers like Bruce and Armstrong have their own, with factors such as variety, sound, and appearance taken into account. A line of discount laminate flooring, for instance, may have fewer options and sound hollow. For Bruce laminates, the brand's top-quality Park Avenue™ collection offers exotic options, has a photographic image with Hi-Definition technology, has a 30-year warranty, and is equipped with Lock&Fold® technology for installation. Bruce's discount laminate flooring line Heritage Heights™, on the other hand, is priced lower, has a 20-year warranty, and focuses primarily on domestic species.