Value Grade Flooring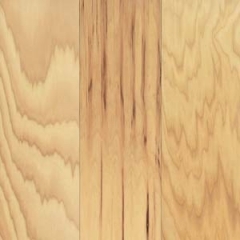 When you go with value you grade flooring, you not only save on costs, but you get a unique hardwood floor as well. Value grade flooring, characterized by knots, mineral streaks, and similar marks, does not meet a manufacturer's standards, but at the same time, the product is not inferior. Rather, grading for unfinished hardwood flooring is based solely on appearance. Those with an even patina, with more heartwood than sapwood receive a "Clear" or "Select" grade. #1 and #2 Common hardwoods have some knots and color variation. Value grade flooring has the most visible knots, and this combination of character marks spread across a finished floor gives a room a rustic appearance.
Color variation sets value flooring apart from its higher counterparts. Greens and blacks create a darker patina, and this color combination often gives value flooring a "swamp wood" moniker. Knots and streaks dotting the wood make your flooring even more distinct. Character marks on value flooring are also indicative of a tree's time in the elements, and as a result, checks, splits, and windshake may also be present.
On occasion, hardwood ends up as value grade flooring because of poor milling. Boards may have voids on the bottoms, visible tree bark, missing tongues, or uneven edges. Each of these features may cause installation problems or make the procedure difficult. If you plan to add value grade flooring to your home, make sure you purchase at least 10 percent extra to compensate for any irregularities or unusable hardwood.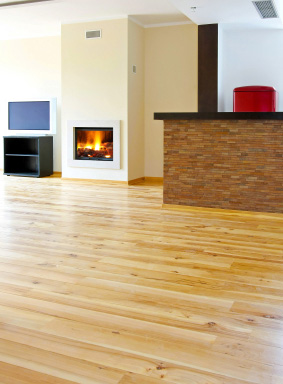 Price
Price is a notable advantage for value grade flooring. Manufacturers often price these lines 50 percent less than standard products at $1.50 to $2.75 per square foot. Value grade flooring, however, does not come with a warranty.
Challenges?
Finding value grade flooring is also a challenge. Not all retailers carry it, and distributors like Hurst Hardwoods have varying selections. Mills provide lists of value grade flooring to distributors, and this contributes to the available selection.
Prefinished flooring is also sold as value grade. Although grading for prefinished flooring is not consistent and based on manufacturers' systems, value grade prefinished hardwood is used for planks that did not pass standards before or after finishing. "Character," "cabin," "tavern," and "#3 common" grades or factory seconds are terms used for unfinished value grades, but for prefinished, all but "character" are used. Instead, "character" is given to prefinished hardwood with a distressed appearance.