Character Grade Flooring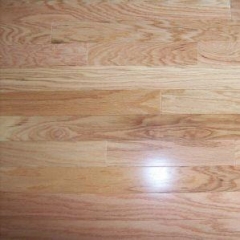 One of the names given to discount flooring, character grade hardwood is somewhat self explanatory: Character marks, such as streaks and knots, pervade each piece of wood. Grading, if you do not know, is based on the appearance of the hardwood – not quality. Character grade hardwoods, with knots and color variations, are the least consistent and, as a result, do not meet a manufacturer's standards.
Although nearly all manufacturers offer character grade flooring, retailers rarely carry it. Instead, distributors like Hurst Hardwoods receive lists from mills of the species and types of character grade flooring for the month. As a result, selections at distributors vary.
Poor milling, on the other hand, may give hardwood flooring the "character grade" label. Because of this, investigate why certain species or types are marked "character," "cabin," or "value" grade flooring, if you are considering discount hardwood. Poorly-milled wood may have voids on the bottoms, tree bark edges, missing tongues, or uneven edges. Installation may be difficult, as the planks do not fit together or result in an inconsistent floor surface. If you want the look of character grade hardwood, order at least 10 percent more to compensate for unusable pieces.
"Character" grade flooring is given to prefinished products as well. Labeled with a manufacturer's grading system, prefinished character flooring is often intentionally distressed. As a result, prefinished character grade wood is not value flooring. If you want prefinished discount flooring, go with cabin, tavern, value, or #3 common grade hardwoods instead.
Pros and Cons
Character grade hardwood flooring has advantages and disadvantages. In addition to the unique appearance, character grade wood is inexpensive: $1.50 to $2.75 per square foot, or up to 50 percent lower than the manufacturer's standard prices. Manufacturers, however, do not offer warranties for character grade products. Pieces, as well, may be shorter than average; some character or cabin grade flooring is only eight to 12 inches long.